Frequently Asked Questions
Examples of wounds in various types of healing.
This is a tibial pilon fracture that was repaired 2 days ago. Most of our wounds are closed with sutures like this. The wound edges are touching nicely. There are no signs of infection.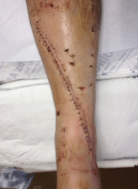 This is a tibial plateau fracture that is 5 weeks after surgery. The wound is very well healed. There are some scabs around the sutures which is not unusual for this type of incision.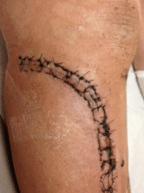 After removal of sutures, we often place steri-strips over the wound as shown in this example.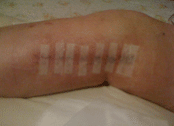 This is an example of a very well healed wound.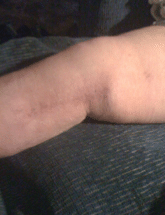 Can I shower?
In general, you should not get your dressing or wound wet. This is especially important while you still have sutures present. After all of your sutures are removed, you may return to showering if we tell you it is ok. Occasionally after removing sutures you may have some scabs present. If so, your wound should remain dry unless instructed otherwise. Once your wound is completely healed with no scabs present it is safe to get wet. If steri-strips were placed on your wound I think it is ok to shower and pat your wound dry. You should not scrub your wound with steri-strips present. Finally, if steri-strips were placed on your wound you will need to inspect them frequently to check for moisture building up underneath them, if so, the steri-strips need to be removed.
What should I not do to my wound?
Pour alcohol or hydrogen peroxide on your wound in an attempt to clean it. Alcohol and Hydrogen peroxide actually do harm to your wound. It is true that they kill bacteria, but they also kill your bodies own cells that are trying to heal the wound. I have seen very significant infections develop from patients cleaning their wounds in these manners.
Submerge your wound in water/get your wound wet (e.g., pool, bathtub, shower, etc).
A brief overview of how to dress an upper or lower extremity wound.
Appropriate materials: (you will need all or some of the following depending on how your wound is dressed).
Clean, dry gauze
Xeroform
Sof-rol or Kerlix
Ace wrap or,
Appropriate form of tape to hold dressing in place. I prefer Tegaderm, Hypafix, or paper tape.
Gauze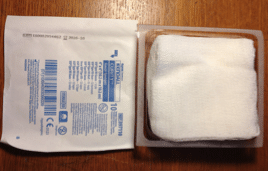 Xeroform Dressing
Sof-rol/Cast Padding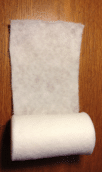 Kerlix dressing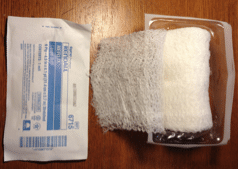 Hypafix Tape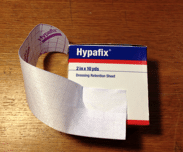 Ace-wrap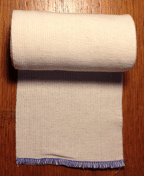 Apply strip of Xeroform to cover your wound. Note, if you remove your dressing and the xeroform is stuck to the wound, and is dry, with nothing wet underneath, you can leave the xeroform in place.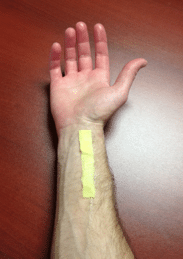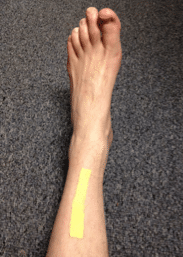 Cover the Xeroform and wound with clean dry gauze.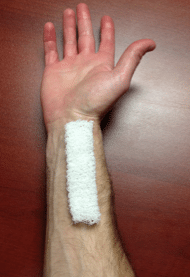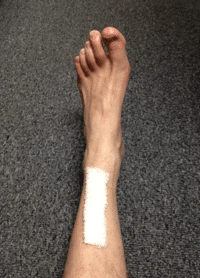 Next, depending on the sensitivity of your skin you can apply an ace wrap with moderate compression directly to the skin (arm example), or place a layer of Sof-rol or Kerlix on before applying the ace, (leg example).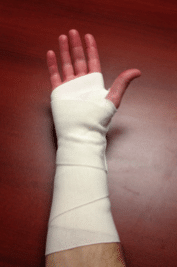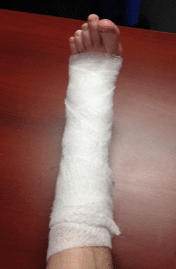 After applying the sof-rol or kerlix the ace wrap is applied. Note: ideally the hand or foot should be included in the dressing if an ace wrap is used. Doing so prevents excessive swelling of the hand or foot.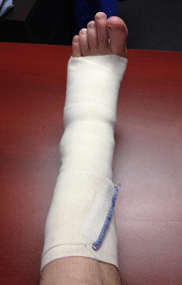 Alternatively the gauze can be held in place with tape (tegaderm is used in this example).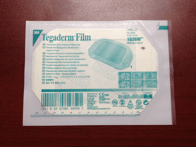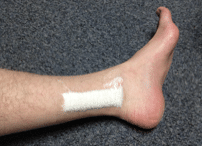 How do I change my dressing?
It is very important that you do this in a very clean fashion. Always start by washing your hands.
After removing the dressing, discard everything except the ace wrap if you have one. This may be reused unless it is soiled. We typically like for incisions in their first two weeks of healing to be covered by a piece of Xeroform (yellow Vaseline gauze with antibiotic impregnated in it). The advantage of applying this type of gauze to your wound in the early healing period is that because it has Vaseline in it. As a result it typically does not stick to the wound as much as conventional gauze resulting in less trauma to the wound and less chance of removing scabs that may have formed which can cause bleeding to recur.
The Xeroform is then followed by clean, dry gauze.
Next, the wound is covered with some form of tape, or if the wound is on an extremity (i.e., arm or leg) it may be covered with an ace wrap.
Regarding tape application, I think the following forms of tape are acceptable; tegaderm, hypafix, or paper tape. All of these can be obtained from most major drugstore chains in the Kansas City, area.
When applying an ace wrap, do not apply it so tight that you begin to develop numbness or tingling in the involved extremity.
If those symptoms begin to occur after a dressing change you should loosen your acewrap.
If the symptoms worsen after removal of the acewrap you should seek urgent medical attention in the nearest Emergency department.
If the symptoms do not worsen after removal, but continue to persist at the same level for greater than twenty minutes you should contact my office immediately.
Should I change my dressing after surgery?
The best rule of thumb is, yes. Every 2-3 days or as needed, we would like you to change your dressing and look at your wounds. The following are some good reasons to change your dressing:
Your dressing becomes wet with body fluid.
Your dressing becomes dirty or wet by something other than body fluids (e.g., something was spilled on it, or it got wet during a shower).
Your dressing is beginning to fall off and hence is no longer protecting the wound.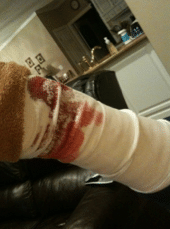 This patient developed bloody drainage on his wound the day after surgery. He was instructed to have it changed.
This patient developed a superficial infection as a result of wet steri-strips remaining on his wound for a few days. After removing the steri-strips and allowing the wound to become dry the infection resolved.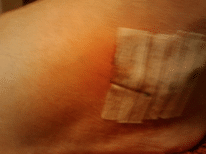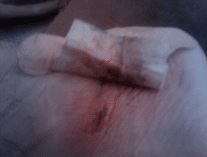 Changing your dressing helps us know if an infection is developing. Common dressing supplies may be sent home with you, may come with home health nursing, or may be found at your local drugstore. If you do not feel that you can change your dressing in a clean fashion, but have been instructed to do so, or feel that it needs to be done, contact our office immediately to schedule a wound check. You may always make an appointment to see us and have your wound checked.
Should my wounds stay covered?
Yes. Until you see us for removal of any sutures/staples or to check your wound, it should stay covered. We typically like our patients to keep their wounds covered with clean dry gauze.
What happens if I don't do pin care?
Without proper cleaning, you may develop an infection around your pin sites. A pin site infection is one of the most common complications following placement of an external fixator. This may delay surgery and place you at a higher risk for post-operative complications. While performing pin care does not ensure you will not develop an infection, it decreases your risk. Signs of a pin tract infection include:
Redness around the pin site(s).
Tenderness around the pin sites, that is typically increasing over time.
Drainage around the pin-site. This may appear as frank pus, or merely be persistent clear drainage.
Loosening of the pins.
Pin site infection that developed after pinning of an unstable finger fracture.
The pin can be seen protruding from the tip of the finger.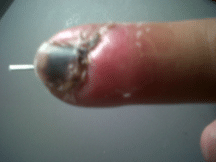 What is pin-care?
External Fixator used to stabilize a fracture of the wrist. The blue arrows point to pins which are part of the fixator (left picture), and pins which are not (right picture). Both require pin care.
If your fracture was treated with an external fixator or pins that protrude through your skin you need to perform pin care. Pin care should be performed at least twice daily. To do this, you use Q-tips with 1/2 Hydrogen Peroxide 1/2 Normal Saline and clean around all the points where metal enters the skin. You then wrap the pin sites with xeroform (yellow Vaseline gauze) and a dry dressing. Ideally, you want to keep the pins as clean as possible, and prevent the build up of crust around the pins.
DO NOT POUR HYDROGEN PEROXIDE OR OTHER CLEANING AGENTS INTO YOUR PIN-SITES, DOING SO CAN SERIOUSLY COMPROMISE YOUR RECOVERY AND OUTCOME!
What does a healthy wound look like?
A healthy wound typically is dry. If it is a wound that has been closed with suture or staples, the wound edges should be well apposed with no gaps exposing deeper structures. The color of the skin around the wound should resemble the color of the skin in other similar areas of your body.
Some examples of healthy wounds are shown below:
Traumatic upper extremity wound closed by staples. Note that a portion of the skin edges have died signified by the black skin edges.
Nevertheless, this wound healed without complication.
---
Some examples of healthy wounds are shown below:
Traumatic upper extremity wound closed by staples. Note that a portion of the skin edges have died signified by the black skin edges.
Nevertheless, this wound healed without complication.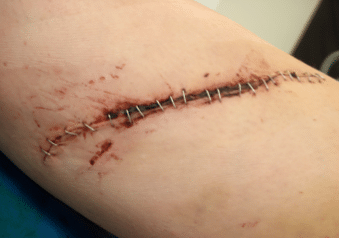 Suture closure of arm wound approximately 3 weeks after surgery.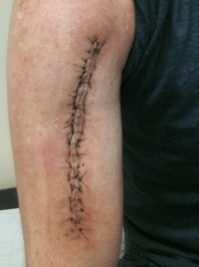 What are signs that my wound is infected?
Redness. Redness surrounding the incision that is tender to touch is concerning for infection.
Drainage from wound. This can appear like frank pus to clear fluid, or anywhere in between. If you have drainage from your wound that is more than a dime sized area on your dressing I want to be notified, and more than likely want to see you. If you are having persistent drainage on your dressing (i.e., 2 days in a row or more), even if it is less than the size of a dime, I want to be notified.
Skin Warmth. Typically this can be determined by feeling the skin around the wound and comparing it to another part of the body. Of note, most healthy, healing wounds will be slightly warmer that the rest of the body, so if this is the only symptom, you are probably ok.
Fever. I typically like to be notified if you have developed a temperature > 100.4 degrees Fahrenheit/38 degrees Celsius. Chills- If you are having the sensation that you are very cold and these symptoms are associated with spells of shaking it could be a sign that you have an infection. Of note, certain drug reactions can cause these symptoms as well.
Tenderness. Tenderness around the wound is concerning for infection, particularly if it is increasing over time instead of diminishing.
---
Here are some examples of infected wounds:
Late Post-operative Wound Infection (8 weeks after surgery)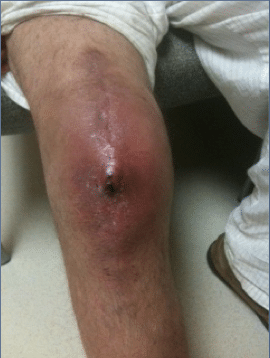 ---
Acute Post-operative wound infection.
Notice the pus draining from the wound.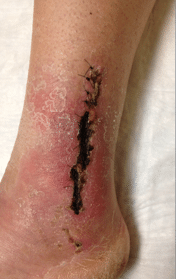 ---
Acute Post-operative wound infection, approximately 1 week out from surgery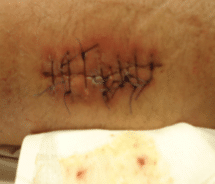 ---
Infected diabetic foot wound of the great toe. The depth of the wound goes down to bone.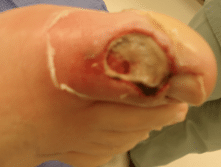 ---
Acute post-operative infection with gas gangreen and necrotizing fasciitis.
Note: This is a life and limb threatening infection.