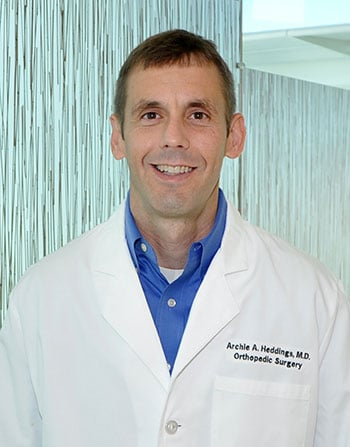 Dr. Archie Heddings is an orthopedic surgeon in Kansas City, Kansas. His practice consists of treating fractures and complications of fractures.
Dr. Heddings has a particular interest in treating complex articular fractures (i.e. fractures involving a joint), and patients that have sustained multiple fractures secondary to high energy trauma.
Dr. Heddings is currently conducting research on scapula fractures, certain types of elbow fractures, and minimally invasive techniques for the stabilization of pelvic fractures.

More About Dr. Heddings
Dr. Heddings was born and raised in Kansas City, Kansas. He graduated from Washington High School and entered the Army at the age 18.
Dr. Heddings served in the Army approximately 4 years and graduated from Ranger School in February 1991. While in the Army Dr. Heddings served with 1st Ranger Battalion, and participated in two combat tours (operations Just Cause and Desert Storm).
Dr. Heddings was involved in a motor vehicle accident and sustained injuries that resulted in him being medically discharged from the Army.
Upon discharge from the Army, Dr. Heddings became an Emergency Medical Technician, and shortly thereafter decided to enter the field of medicine.
He attended Kansas University Medical School where he received his M.D.
Dr. Heddings completed a residency in Orthopedic Surgery at The University of Kansas Hospital.
He the attended the Twin Cities Orthopedic Trauma Fellowship at Regions Hospital in St. Paul, Minnesota, and Hennepin County Medical Center in Minneapolis, Minnesota.
Dr. Heddings returned to The University of Kansas Hospital, where he sub-specializes in the treatment of fractures.
---
Board Certification
American Board of Orthopaedic Surgery
---
Education
Medical School: University of Kansas Medical Center
Residency: University of Kansas Medical Center
Fellowship: University of Minnesota